Fifth wave of surveys in January 2021
Results of the 5th survey wave from 19. January - 01. February 2021
COVID-19 study: willingness to vaccinate and confidence in vaccines on the rise
 Information is key to the willingness to get vaccinated
 Since November 2020, the willingness to be vaccinated in Germany has increased slightly from 57 percent to 62 percent. 48 percent of people who would like to get vaccinated have no preference for a particular vaccine. A representative survey conducted by the Hamburg Center for Health Economics (HCHE) at the University of Hamburg also shows that more than 50 percent of the population in Germany opposes a later second vaccination, even if this would initially allow more first vaccinations.
Compared with the other countries surveyed in Europe, Germany only ranks second to last in terms of willingness to get vaccinated. Only France, with 48 percent, has even fewer people willing to be vaccinated. The United Kingdom and Denmark currently lead the field with 80 percent. Overall, all countries have increased their willingness to be vaccinated since November 2020. The HCHE's representative survey is conducted every two months among more than 7,000 people in seven European countries.
"We see that young people, in particular, who were previously undecided, have now made a decision," explains Prof. Dr. Jonas Schreyögg, Scientific Director at the HCHE at the University of Hamburg, and adds, "Furthermore, it shows that willingness to vaccinate increases the more intensively someone is involved with current events." Thus, 78 percent of those who follow the news very closely via TV and newspapers, for example, would like to get vaccinated. In comparison, only 42 percent of those who are less informed do so.
Since November, confidence in the safety of vaccines has risen in all countries, with figures in the United Kingdom and Denmark reaching a good 70 percent. In Germany, as many as 57 percent of the population think that the vaccines now available are safe. Here, too, interest plays a major role. In a comparison of all countries, those who are well informed believe in the safety of the vaccines more than twice as often as those who are less well informed (72 to 32 percent).
Those who would like to be vaccinated in Germany, at 48.2 percent, have no preference for any of the vaccines approved to date. If a choice of vaccine were possible, 33.3 percent would opt for Biontech/Pfizer, 5.8 percent for Moderna and only two percent for AstraZeneca. In this country, only 19 percent of respondents favor postponing the second vaccination in order to cover more people first. 51 percent oppose this. In the UK, where this is already being implemented, 41 percent agree with a later second vaccination.
Since the beginning of the pandemic, confidence in COVID-19-related government information has remained virtually unchanged in many countries. It is highest in Denmark and the Netherlands, at more than 80 percent, with Germany just behind at 77 percent. The United Kingdom is an exception here: Starting from high percentages in April last year, the government there suffered significant losses in confidence (84 percent in April 2020, 63 percent in September and November 2020) and is now experiencing rising values again at 69 percent.
Even though the current assessment of one's own risk of contracting Corona is similar to that in November, more people are once again adhering to the rules laid down. In all the countries surveyed, the values for keeping a distance (in Germany from 46 to 57 percent) and avoiding hugs, kisses and handshakes as greetings have risen since November (in Germany from 66 to 73 percent).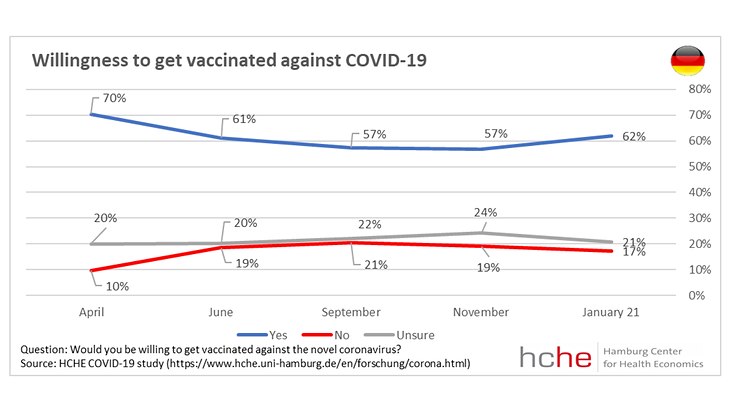 Photo: HCHE
Willingness to get vaccinated against COVID-19 over time in Germany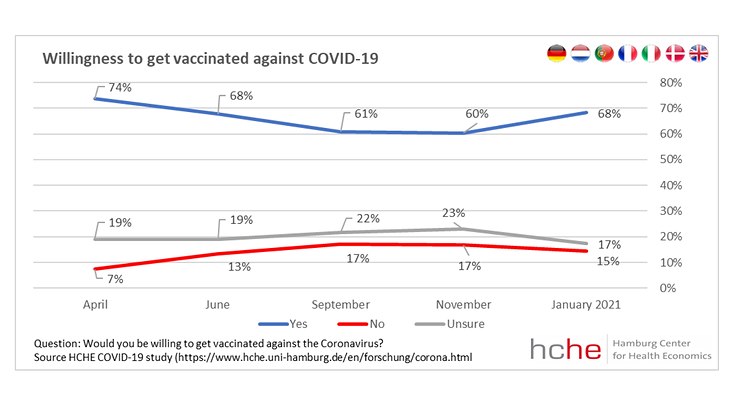 Photo: HCHE
Willingness to get vaccinated against COVID-19 over time in Europe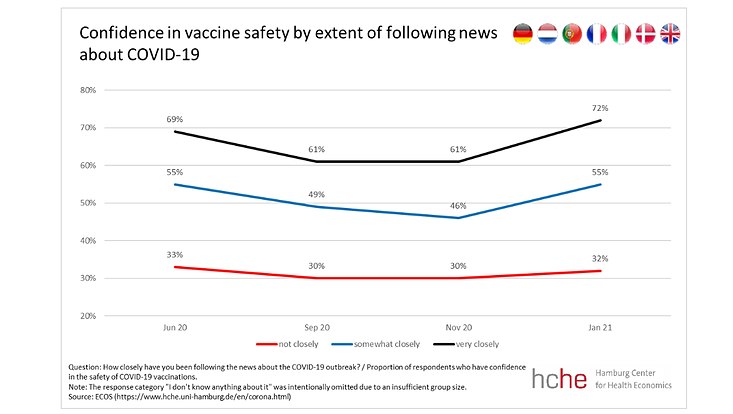 Photo: HCHE
Confidence in vaccine safety by extent of following news about COVID-19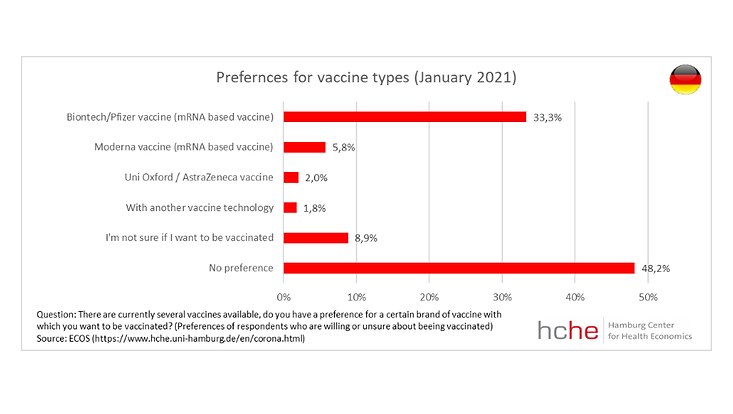 Photo: HCHE
Preferences for vaccine types in January 2021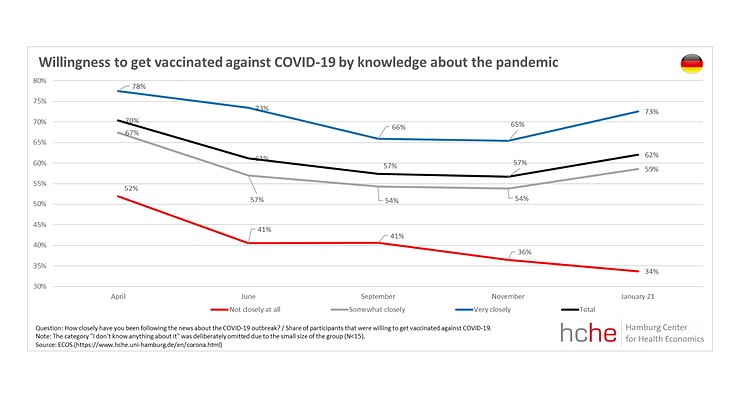 Photo: HCHE
Willingness to get vaccinated against COVID-19 by knowledge about the pandemic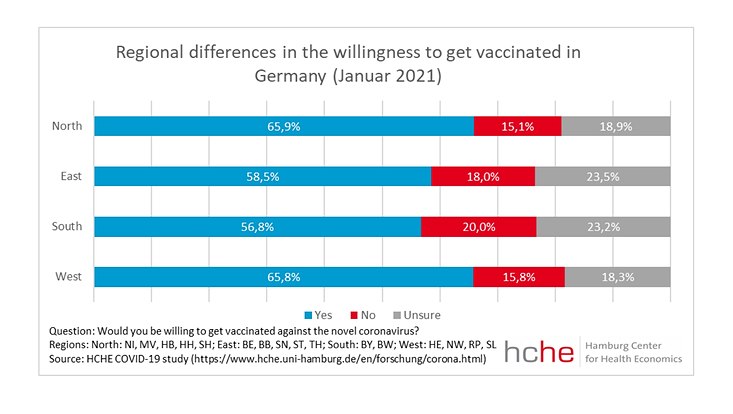 Photo: HCHE
Regional differences in the willingness to get vaccinated in Germany in January 2021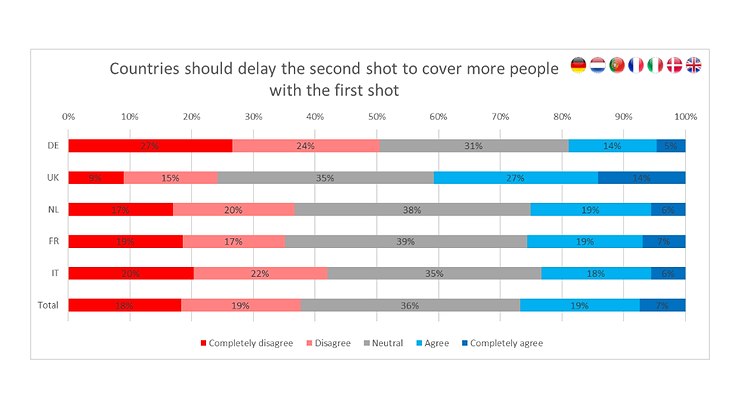 Photo: HCHE
Opinion of participants on a delay of the second vaccination shot