Review: 10th dggö Annual Meeting
Impressions of the 10th dggö annual meeting
The 10th dggö annual meeting took place in the main building of Hamburg University
From left to right: Prof. Dr. Reiner Leidl, Prof. Dr. Gabriele Löschper, Prof. Dr. Dr. Uwe Koch-Gromus, Prof. Dr. Stefan Felder, Prof. Dr. med. Ferdinand M. Gerlach, Cornelia Prüfer-Storcks, Prof. Dr. med. Hans-Helmut König (Tagungspräsident)
Speech of Cornelia Prüfer-Storcks at the opening plenary on Monday, 5th March 2018
Cornelia Prüfer-Storcks, Senator of Hamburg Authority of Health and Consumer Protection
Prof. Dr. Dr. Uwe Koch-Gromus, Dean of the Medical Faculty of University Medical Center Hamburg-Eppendorf (UKE)
Prof. Dr. Gabriele Löschper, Dean of Hamburg University's Faculty of Economics and Social Sciences
Prof. Dr. Reiner Leidl, Ludwig Maximilian University of Munich
In discussion: Prof. Dr. Ferdinand Gerlach und Prof. Dr. Hans-Helmut König
dggö café with exhibition area
Lively conversations at the dggö café
Prof. Dr. rer. pol. Jürgen Wasem during one of the numerous sessions
Presentation of Dr. Sylvia Demme in a lecture hall of Hamburg University
Prof. Dr. Stefan Felder, to date chairman of dggö, opened the anniversary plenary
Live music at the anniversary plenary
Screening of the anniversary film
Awarding of the Gérard Gäfgen medal to Prof. Dr. J.-Matthias Graf von der Schulenburg
Awarding of the dggö science award to Stefan Pichler
Awarding of the dggö science award to Christian Bommer
Above the roofs of Hamburg - gala dinner with a view from the 23rd floor of the Emporio tower
Conference president Prof. Dr. med. Hans-Helmut König inaugurated the evening
Atmospheric ambience at the gala dinner at Emporio
The gala dinner was accompanied with live music
In the foyers of the side buildings the participants met in the breaks for exchange and a look at the posters
Prof. Dr. Robert Nuscheler of Augsburg University presented the closing plenary
Prof. Dr. Werner Brouwer, Erasmus University Rotterdam
Prof. Dr. Michael Drummond, University of York
The student assistants provided active support
Overview of the 10th annual meeting of the German Health Economics Association (dggö)
Conference motto "Economics and Medicine in Dialogue"
5-6 March 2018
Main building of Hamburg University
more than 500 participants
191 talks in 60 sessions
47 short presentations in poster sessions
DGGÖ Annual Meeting With Around 500 Participants Was A Complete Success
Last week, on 5-6 March 2018, the 10th annual meeting of the German Health Economics Association (DGGÖ) took place in the main building of Hamburg University.
 We took the opportunity of this round anniversary to hold the meeting in a solemn setting. Even the weather played its part and welcomed around 500 participants with bright sunshine.
 Senator Cornelia Prüfer-Storcks (Hamburg Authority of Health and Consumer Protection) and Dean Gabriele Löschper (Hamburg University's Faculty of Economics and Social Sciences) solemnly opened the anniversary meeting. There were three great plenary sessions with renowned and partly international speakers from science and politics. Furthermore, a varied spectrum of talks, panels and poster presentations was offered.
 During the breaks, our DGGÖ Café with a professional barista invited the participants to enjoy some coffee and exchange on an informal level.
 On Monday evening, the guests could admire Hamburg from above at a festive gala dinner. In addition to a panoramic view from the 23rd floor of the Emporio tower, there was an entertaining evening with live music and an excellent menu.
 We are excited about the large amount of positive feedback and wish our successors in Augsburg all the best for the preparation of the 11th annual meeting!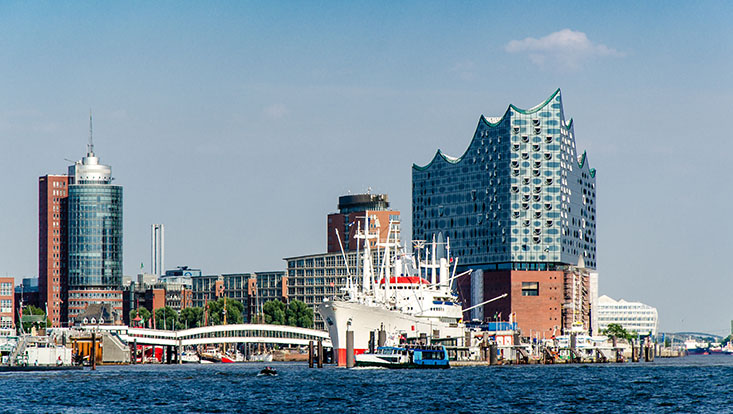 10th dggö Annual Meeting, 5 and 6 March 2018, Hamburg (Germany)