Coronavirus Pandemic: Research at the HCHE
In health economic terms, the current crisis situation also raises many questions, for example how the population deals with the threat of the corona virus and to what extent it follows political decisions such as the ban on contact.
Therefore, we are currently investigating the following topics in a large-scale study in 7 countries:
Information policy and trust in information sources
Agreement on the restrictions and relaxations
Individual, financial and economic concerns
Opinion on the Tracing-App
Confidence in shops and service providers that the protection measure will be implemented
Vaccination readiness
Own handling of the prescribed protective measures
Willingness to donate blood
In the meantime, three waves of surveys have taken place; you can find the results on the right.

The latest evaluation deals with vaccination readiness and attitudes towards public events:
While concerns about someone's own health are currently increasing again with in the number of infections rising again, the willingness to comply with distance and hygiene rules is noticeably decreasing. This is shown by the latest figures from the representative survey by the Hamburg Center for Health Economics (HCHE) at the University of Hamburg of more than 7,000 people in Germany and six other European countries. The survey furthermore finds reservations about large crowds - but also about vaccinations.

According to the results, almost one in four people in Germany believes they are at high risk of infection. After this number decreased between April and June, it has now increased by three percentage points since June. These findings are similar across countries - in France and Portugal the numbers in September are even significantly higher than at the beginning of the pandemic in April.

Despite these growing concerns, fewer and fewer people adhere to the distance and hygiene rules. Only 45% of people in Germany say that they follow distance regulations and only 39% adhere to recommended hand hygiene rules. Hugs, kisses and greeting handshakes are on the rise again: only 58% of participants are currently avoiding them, in April it was still 77%. "We have noticed that the increasing numbers of infections are frightening the population, but at the same time that a certain amount of fatigue can be seen when following the rules," says Professor Dr. Jonas Schreyögg, Scientific Director of the HCHE.
The number of people who oppose vaccinations is growing
Attitudes towards vaccinations have also changed:  While 70 percent of people in Germany were ready to be vaccinated against SARS-CoV-2 in April, currently only a little more than half of them still express that readiness; a tendency present in all EU countries participating in the survey. The proportion of those who are explicitly against vaccination is growing in particular while the number of people who are undecided is unchanged.

"We were able to determine that the people who oppose vaccination are above all people who do not see any health risk for themselves from Corona or who have no trust in the information policy of their government or organizations like the WHO," says Schreyögg. "It is therefore important to make further efforts to strengthen trust in public information and to minimize the risk of cluster outbreaks in the future."

In front of empty stands: football, concerts & Co.
Although many people are now increasingly carefree, they all agree in their skepticism towards large crowds. Only 25% of respondents in Germany think that football matches should take place with spectators again, 56% are against it. Only 15% would currently want to go to a stadium. "In a country where every second person is a football fan, that is an astonishingly low figure," said Schreyögg. A similar picture emerges for music concerts: only 24% of those surveyed can imagine pop and rock concerts with an audience, and only 18% would attend one.

People are less concerned when it comes to cinemas and theaters. 38 percent each agree with screenings or performances with an audience present. The willingness to attend is somewhat greater than to attend stadiums and concerts, but more than one in two currently thinks it is unlikely to go to a cinema or theater performance.
1 von 6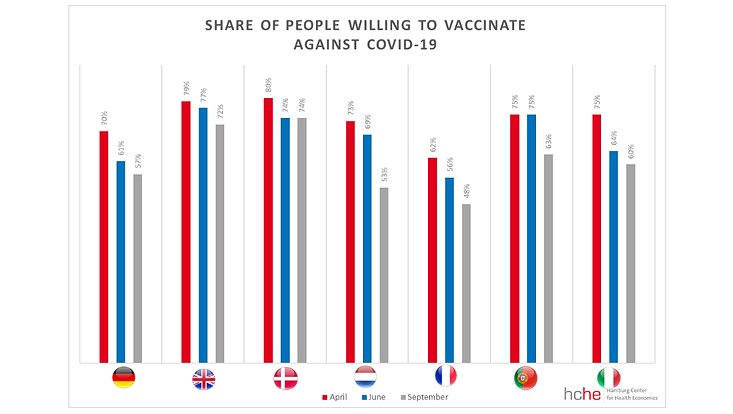 Photo: HCHE
This diagram shows the participants' willingness to get vaccinated.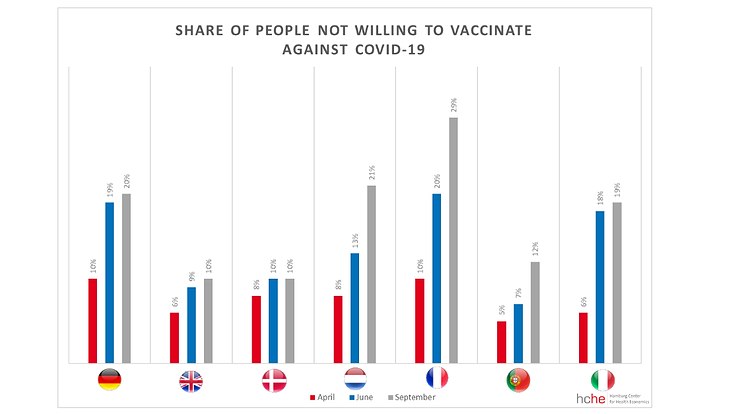 Photo: HCHE
This diagram shows the percentage of of participants, who are not willing to get vaccinated.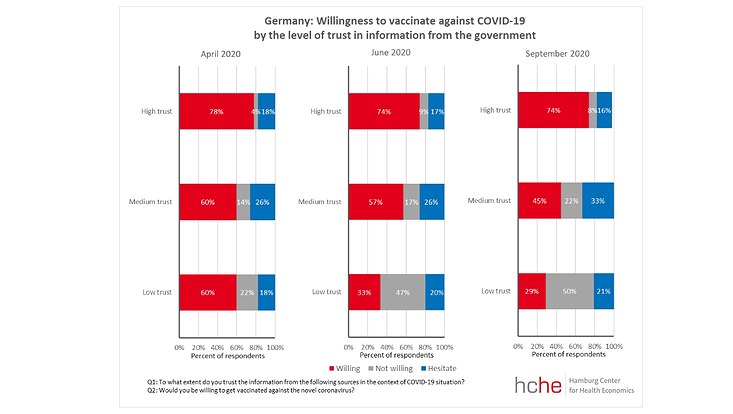 Photo: HCHE
This diagram shows the participants' willingness to vaccinate in relation to their trust in the German government's information.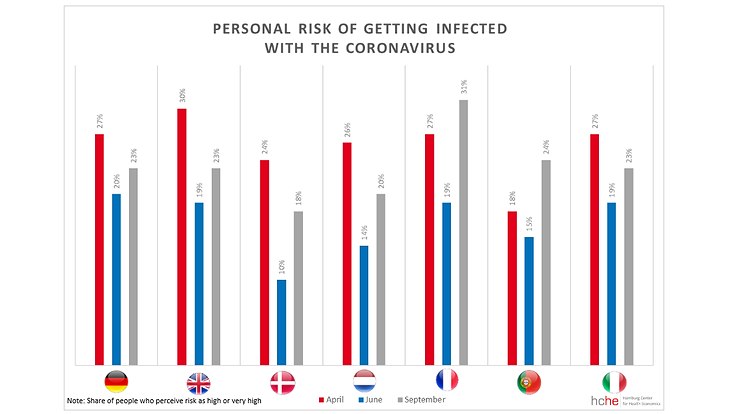 Photo: HCHE
This diagram shows the participants' perception of their personal risk of contracting Covid-19.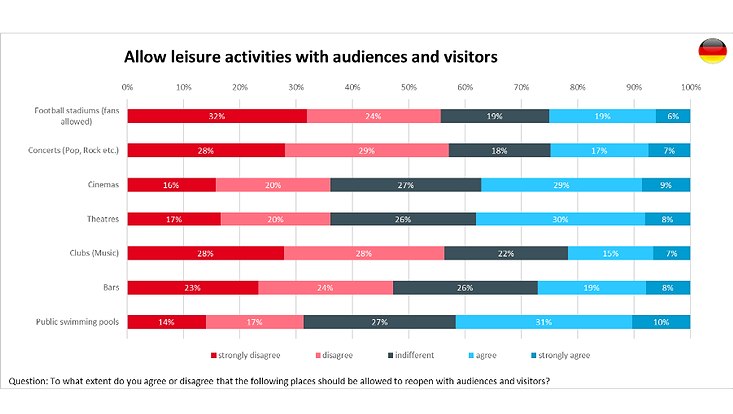 Photo: hche
This diagram shows to what extent visitors would want certain leisure activities and places to reopen with audiences and visitors attending.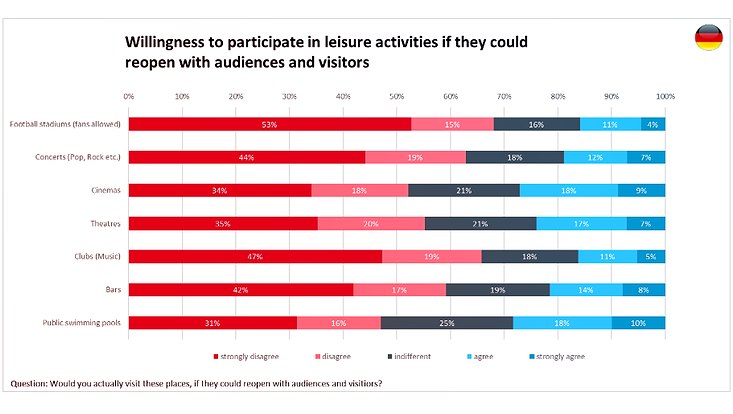 Photo: hche
This diagram shows how willing participants would be to attend and participate in leisure activities if these places could reopen with audiences and visitors.
Study design
We have studied people's attitudes, concerns and confidence regarding the COVID 19 pandemic in an online survey of representative samples of the population in terms of region, gender, age and education in seven European countries with more than 7,000 respondents in each wave. The first wave of fieldwork was conducted between 2 and 15 April 2020 and the second wave between 9 and 22 June 2020. About 60% of the respondents in the first wave also took part in the second wave of the survey. The remaining sample consists of new respondents in order to ensure again the representativeness of the sample. The respondents were recruited using multi-sourced online panels from the Dynata market research company. The questionnaire was carefully designed by the authors to ask new and relevant questions while adopting some established measures, such as the concern items from the COVID 19 Snapshot Monitoring Project (WHO). Finally, the survey was translated into six additional languages by native speakers and then implemented using the Qualtrics platform.
The survey is carried out as a cooperation project between the Universities of Nova School of Business and Economics (Portugal), Bocconi University (Italy), Erasmus University Rotterdam (Netherlands) and the Hamburg Center for Health Economics, University of Hamburg.
First survey results: European population is behind the political decisions to contain Covid-19
The decisions and recommendations made so far by politicians and organisations such as the World Health Organisation (WHO) are supported by the majority of citizens in the seven European countries surveyed. People are mainly concerned about overburdening the health system and the economic outlook, especially for small businesses. A ban on the export of medical equipment is also overwhelmingly supported. When it comes to the use of tracking apps, Germany is much more reluctant than other countries.
Find first results here:
Countering COVID-19: A European survey on acceptability and commitment to preventive measures


---