Corona Research at the HCHE
In terms of health economics, the current crisis situation raises many questions, for example how the population is dealing with the threat of the corona virus and to what extent they follow political decisions such as the ban on contact.
Therefore, since April 2020, the HCHE has been investigating the concerns and attitudes of people in the corona pandemic and willingness to vaccinate together with researchers from three other European universities. As part of the "European COvid Survey (ECOS)" project, more than 7,000 people in 7 European countries are surveyed every two months. The study is representative.
Results of the 6th survey wave from 2nd to 16th of April 2021
COVID-19 study: dissatisfaction with corona management grows
More than half of Germans are in favour of lifting vaccination prioritisation
After the population in Germany had been predominantly behind the containment measures since the beginning of the Corona pandemic a good year ago, a trend reversal is now becoming apparent. In a representative survey conducted by the Hamburg Center for Health Economics at the University of Hamburg, almost one in two people disagreed with the measures and their implementation. In addition, more than 40 percent of people said that corona management will influence their voting decision. 57 percent are also in favour of dropping the current vaccination prioritisation.
People in Germany are increasingly critical of the current Corona management: 59 percent find the measures ineffective and 49 percent disagree with the Corona management in this country this year. This puts Germany on a par with France in last place among the seven European countries surveyed. The governments of Great Britain, Denmark and Portugal receive good scores for their corona management from their population.

Asked about the current vaccination management, 58 percent of the people in Germany do not agree with it and almost every second person does not think the decision to order the vaccine centrally via the EU is right. In contrast, people in Denmark and Portugal, for example, are clearly in favour of centralised ordering via the EU.

For the survey, which is conducted by the Hamburg Center for Health Economics (HCHE) of the University of Hamburg approximately every two months, more than 7,000 people in seven European countries are interviewed. The current survey took place from 2 to 16 April 2021.
Continue reading here.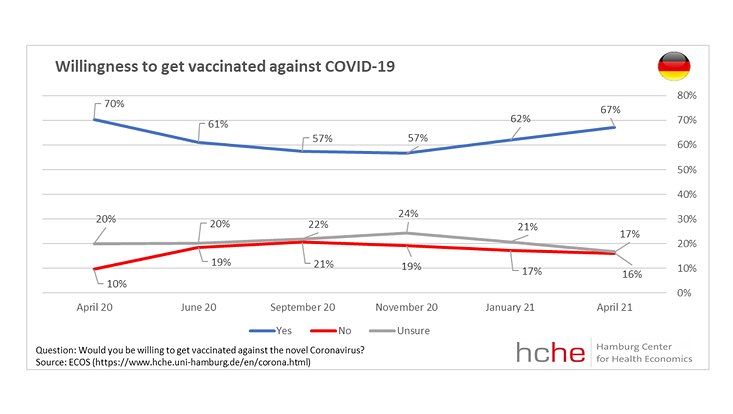 Photo: HCHE
Willingness to get vaccinated in Germany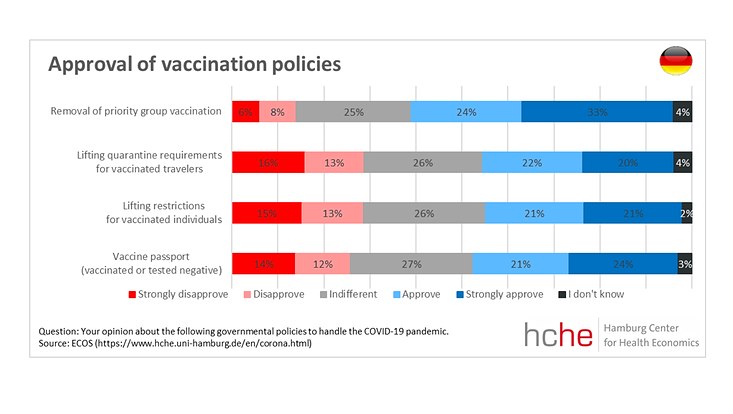 Photo: HCHE
Approval of vaccination policies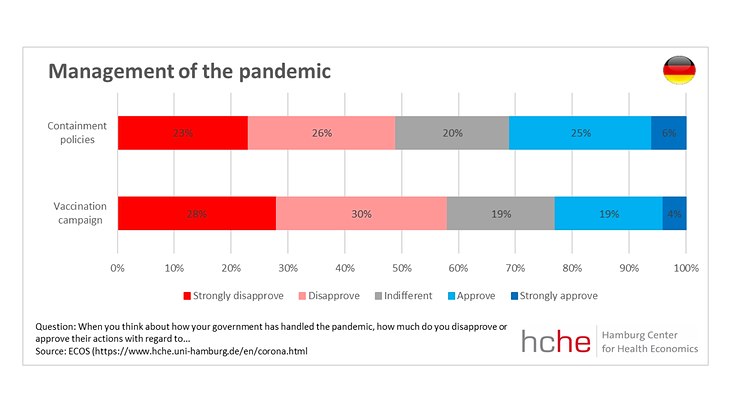 Photo: HCHE
Management of the pandemic by the government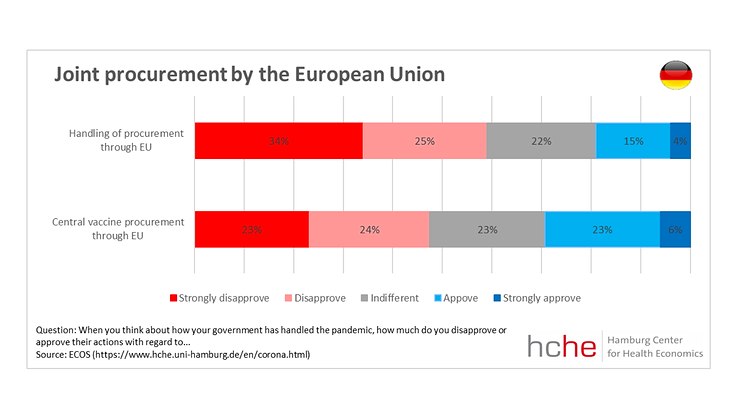 Photo: HCHE
Perception of the joint procurement of vaccines through the EU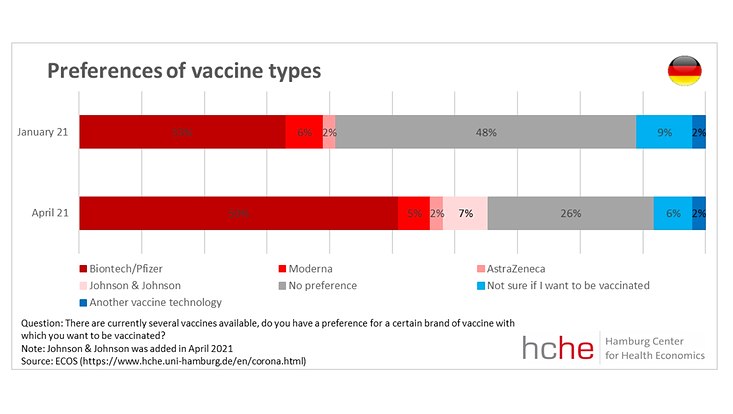 Photo: HCHE
Preference of vaccines in Germany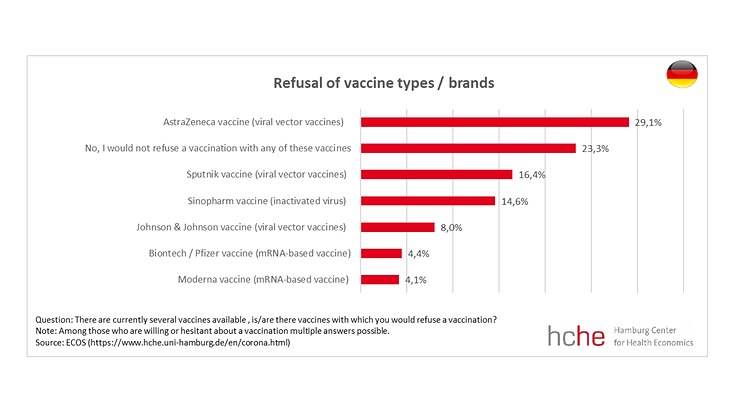 Photo: HCHE
Refusal of vaccines types in Germany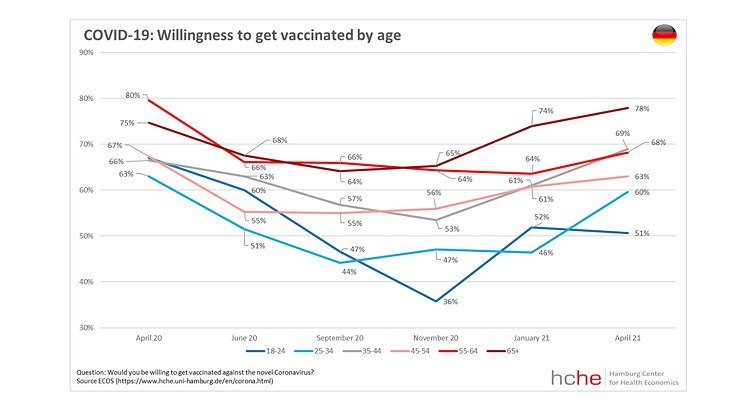 Photo: HCHE
Willingness to get vaccinated in Germany by age of the respondent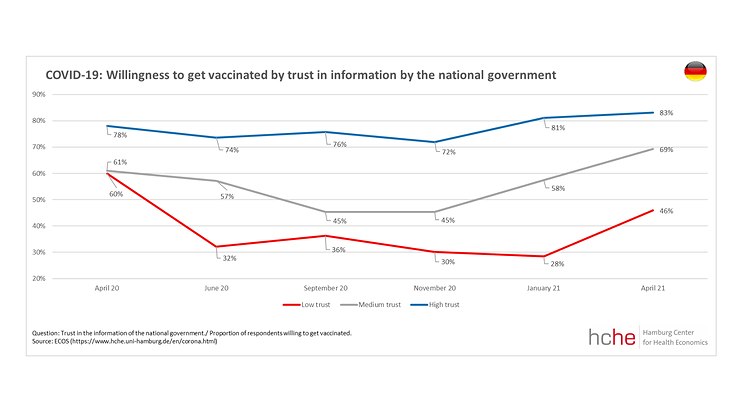 Photo: HCHE
Willingness to get vaccinated in Germany by trust in the information from the national government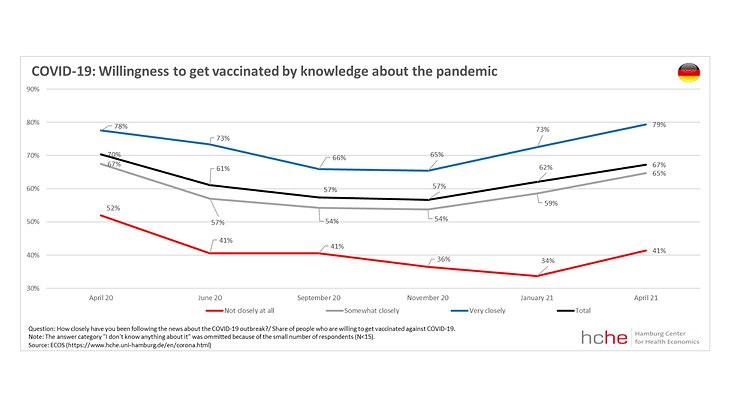 Photo: HCHE
Willingness to get vaccinated in Germany by knowledge about the pandemic