Corona Research at the HCHE
In terms of health economics, the current crisis situation raises many questions, for example how the population is dealing with the threat of the corona virus and to what extent they follow political decisions such as the ban on contact.
Therefore, since April 2020, the HCHE has been investigating the concerns and attitudes of people in the corona pandemic and willingness to vaccinate together with researchers from three other European universities. As part of the "European COvid Survey (ECOS)" project, more than 7,000 people in 7 European countries are surveyed every two months. The study is representative.
Results of the 5th survey wave from 19. January - 01. February 2021
COVID-19 study: willingness to vaccinate and confidence in vaccines on the rise
Information is key to the willingness to be vaccinated
Since November 2020, the willingness to be vaccinated in Germany has increased slightly from 57 percent to 62 percent. 48 percent of people who would like to get vaccinated have no preference for a particular vaccine. A representative survey conducted by the Hamburg Center for Health Economics (HCHE) at the University of Hamburg also shows that more than 50 percent of the population in Germany opposes a later second vaccination, even if this would initially allow more first vaccinations.
Compared with the other countries surveyed in Europe, Germany only ranks second to last in terms of willingness to get vaccinated. Only France, with 48 percent, has even fewer people willing to be vaccinated. The United Kingdom and Denmark currently lead the field with 80 percent. Overall, all countries have increased their willingness to be vaccinated since November 2020. The HCHE's representative survey is conducted every two months among more than 7,000 people in seven European countries.
"We see that young people, in particular, who were previously undecided, have now made a decision," explains Prof. Dr. Jonas Schreyögg, Scientific Director at the HCHE at the University of Hamburg, and adds, "Furthermore, it shows that willingness to vaccinate increases the more intensively someone is involved with current events." Thus, 78 percent of those who follow the news very closely via TV and newspapers, for example, would like to get vaccinated. In comparison, only 42 percent of those who are less informed do so.
Continue reading here.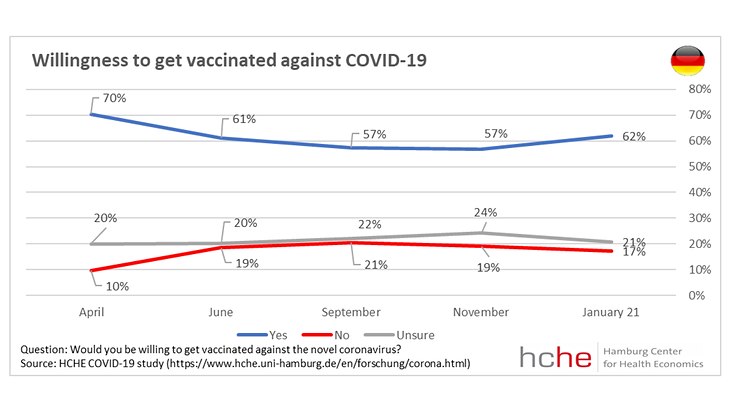 Photo: HCHE
Willingness to get vaccinated against COVID-19 over time in Germany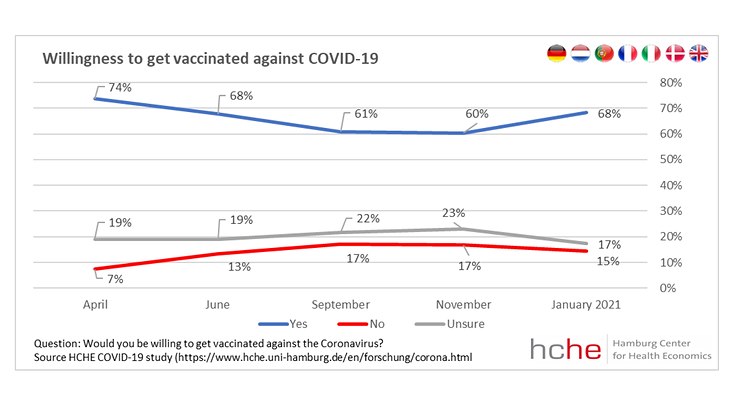 Photo: HCHE
Willingness to get vaccinated against COVID-19 over time in Europe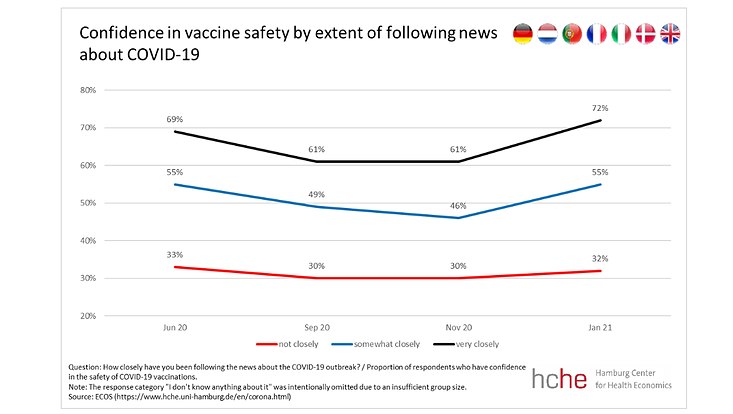 Photo: HCHE
Confidence in vaccine safety by extent of following news about COVID-19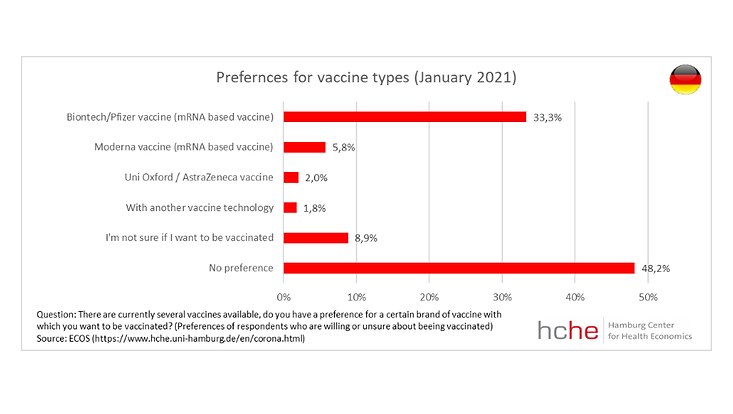 Photo: HCHE
Preferences for vaccine types in January 2021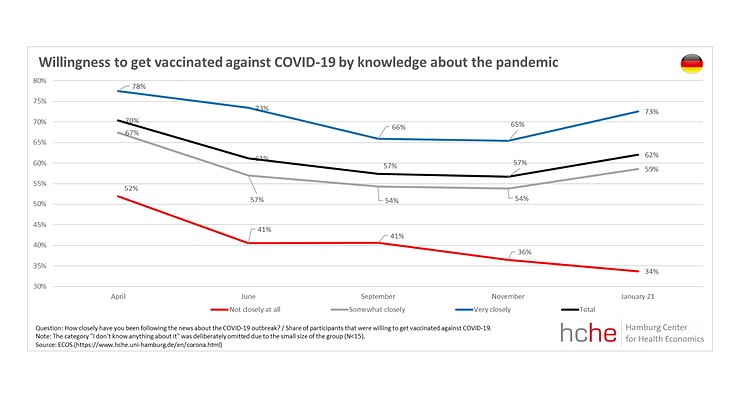 Photo: HCHE
Willingness to get vaccinated against COVID-19 by knowledge about the pandemic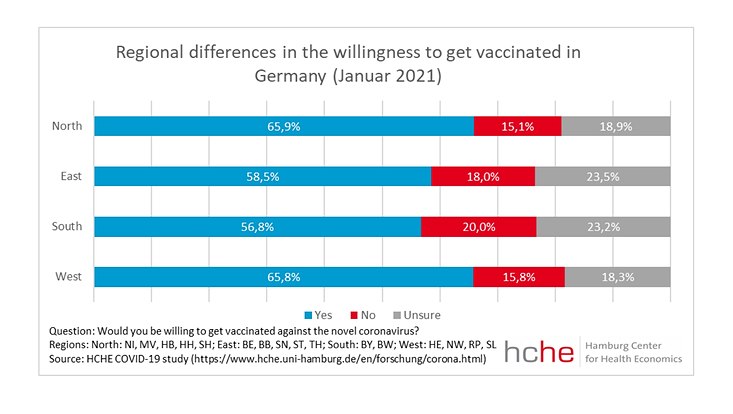 Photo: HCHE
Regional differences in the willingness to get vaccinated in Germany in January 2021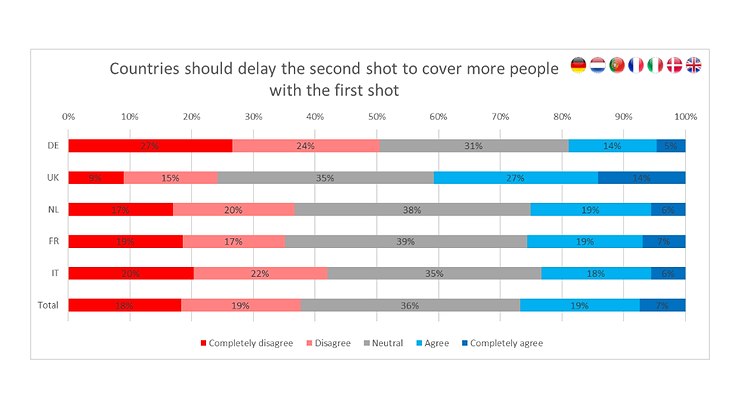 Photo: HCHE
Opinion of participants on a delay of the second vaccination shot